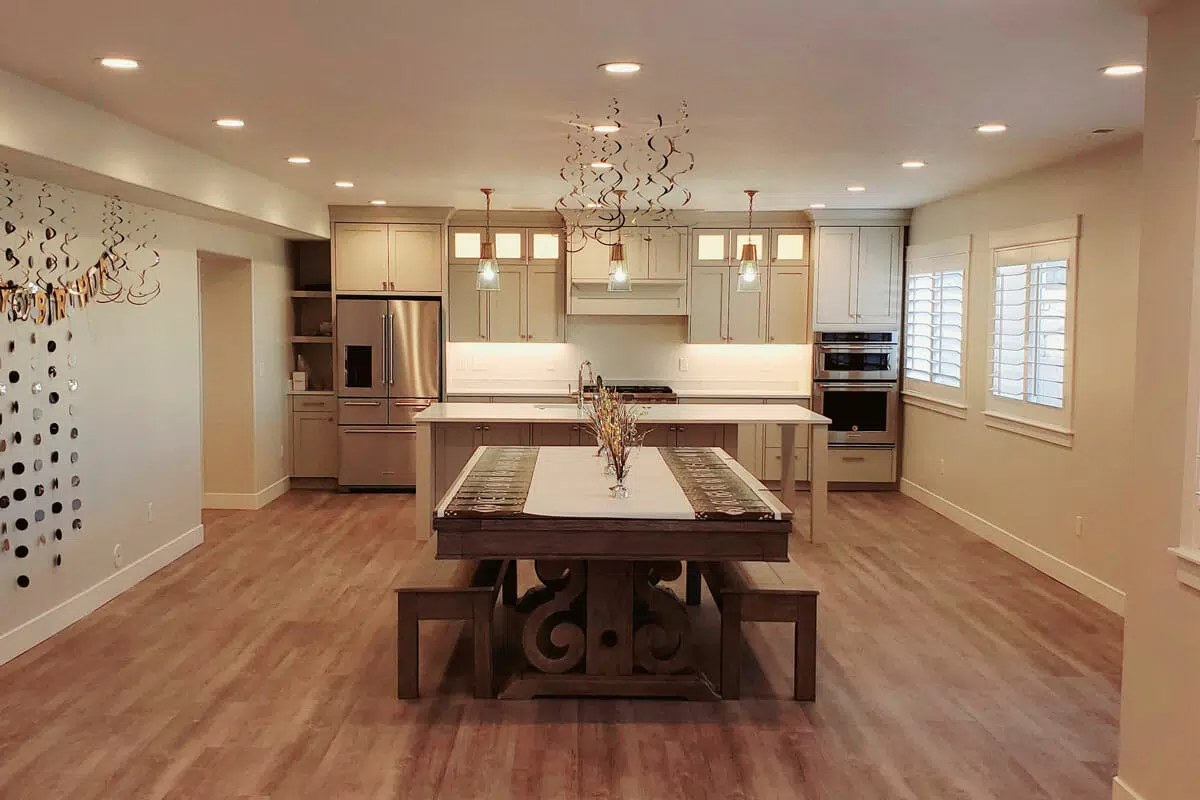 The heart of every home is the kitchen. It's the place where meals are prepared, where homework is done, where morning talks happen, and where friends and family inevitably gather during every event and holiday. That's why your kitchen should be comfortable and functional, spacious, and show off your personality.
A kitchen renovation can be overwhelming, but with the right planning and preparation, and professional work from Aspire Construction, remodeling the kitchen in your home can be an exciting experience that leaves you with a dazzling new space. Read on for the ultimate kitchen renovation checklist that will help you stay on track and sane during the remodeling process, ensuring your kitchen renovation is a huge success.
First Things First.
Unless you have experience with home construction and renovation, leave your kitchen renovation project to the professionals. Hire the team at Aspire Construction to help with your kitchen renovation, they are licensed, and experienced-having completed several kitchen renovations in Salt Lake City and surrounding areas.
Determine your Budget.
Depending on your kitchen remodeling dreams, the cost of a kitchen remodel can vary greatly. Knowing how much you have to spend on the project before you start is important. A budget also helps you to stay focused on what is most important to you with regard to the remodel. You will need to consider the cost of materials as well as labor, finishes, and necessary permits, you should also pad your costs for unexpected or unforeseen expenses.
Design your Kitchen.
Every great kitchen needs to have a well-functioning layout, it should utilize space efficiently, and of course, it should have a warm and inviting feel. Designing your kitchen includes deciding on a layout and floorplan of the space, the style of cabinets, countertops, and appliances. Not to mention colors, finishes, and hardware. You may consider hiring a professional interior designer to help with kitchen remodel ideas and keep track of all the design aspects related to your project.
Choose Appliances.
One of the most eye-catching features of your kitchen is the appliances. Are looking for high-end, chef-rated, or energy-efficient options? There is a wide variety of appliances in a range of colors and finishes available for homeowners, you will also want to consider the size and where it will be placed in your new kitchen.
Choose Cabinets and Countertops.
Cabinets and countertops are a crucial aspect of your kitchen, they are the first thing everyone will notice and should show off your home style and your personal taste. You will want to consider the materials, durability, and aesthetics. Do you want wood or laminate cabinets? Do you prefer marble or quartz countertops? There are many options to consider, this is where having a budget can help with the decision-making process.
Choose Kitchen Floors.
It's a good idea to think about kitchen flooring that can withstand traffic, spills, and wear and tear. Think durable and easy to clean. Popular choices for kitchen flooring include natural hardwood, laminate flooring, or tile. There are plenty of options that will fit within your price range and style.
Plan Lighting and Electrical.
Proper lighting and planning for electrical is a big part of a kitchen renovation. Adding lighting or moving lighting is common during a renovation so that the kitchen is well-lit, so it's important that you plan for more power outlets to accommodate for the changes and additional electrical needs.
Obtaining Permits.
Before any kitchen renovations can begin your contractor will need to submit a request for a building permit from the city or local government agency. Work can only begin once the permit has been obtained and posted at the job site.
Prep the Kitchen Area.
Prepping your space for renovation includes moving out all the old appliances, furniture, and kitchenware, as well as covering surfaces to protect them from dust and debris. You may consider sectioning off the kitchen with plastic in an effort to keep dust and dirt from making its way into the rest of the house.
Let Renovations Begin.
Now that your budget is in place and all the prep work and planning have been taken care of, it's time to start your remodel. The Aspire Construction team will walk you through every step of the renovation process and communicate with you from start to finish.
A kitchen remodel can be overwhelming if you aren't prepared for the task. By following the planning and preparations in this checklist, you will know how to renovate a kitchen like a pro, leaving you with the kitchen of your dreams.