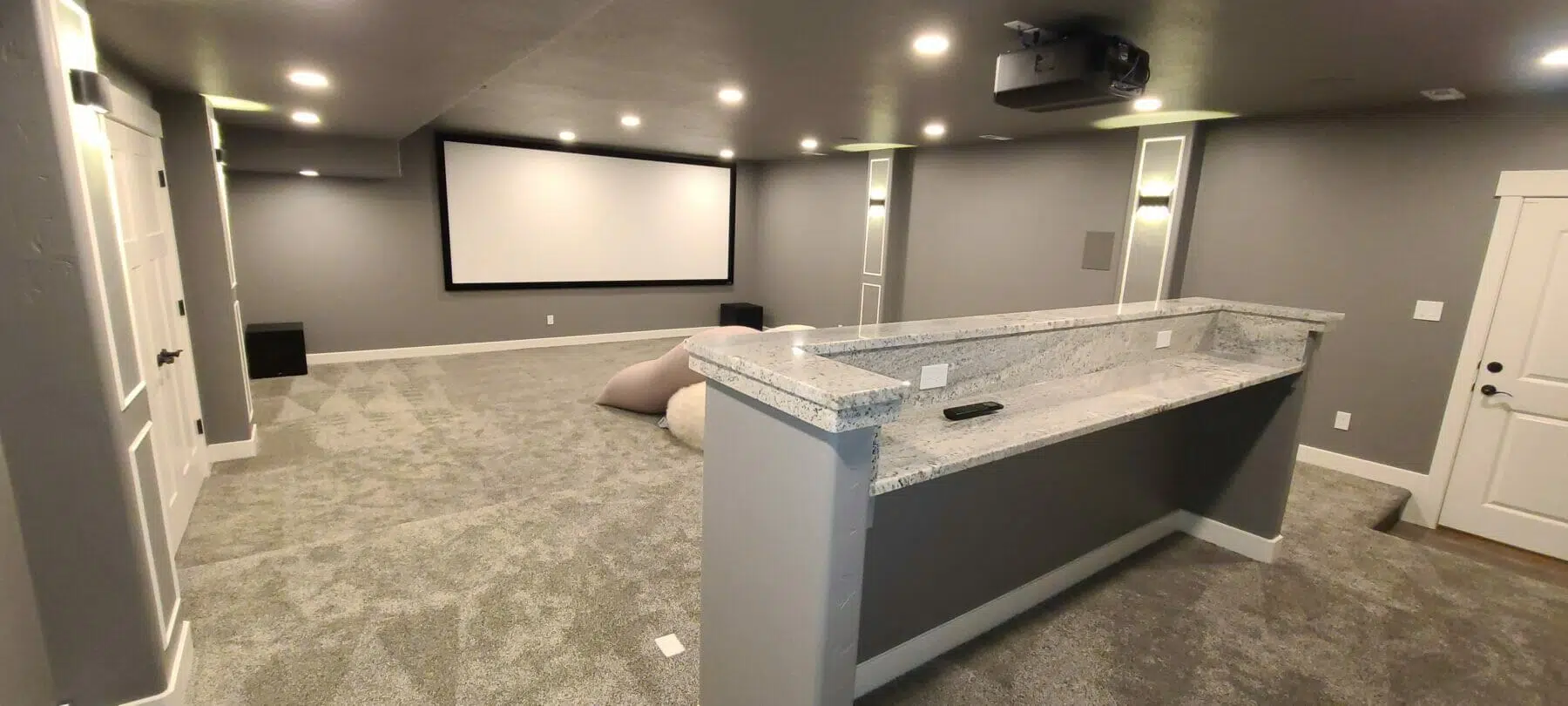 Adding a home theater can be a great way to create a multi-use space that benefits the whole family. However, no two home theaters are exactly alike, and making the right theater for your space requires you to consider several factors.
Below, we'll lay out some of the common trends we're seeing in Utah home theater construction and leave you with some tips for designing the ultimate home theater in your basement.
For the best in Utah basement home theaters, the first tip is an important one: get help from a Utah basement home theater contractor like Aspire Construction. Aspire has experience handling all the roadblocks you may stumble upon in a Utah construction project and can help you navigate them efficiently.
Three Trends in Utah Basement Home Theaters
While each home movie room is slightly different, we can still spot trends that tend to occur over time. We see the following features in many Utah home theaters.
Basement Still Offers the Best Setting
Most Utah home theaters continue to be built in the home's basement. Basement rooms tend to cost less to maintain optimal temperature through Utah's large temperature fluctuations. Basement movie rooms also block out more natural light than movie rooms at ground level or higher. The lower lighting often makes the movies easier to see, especially if your basement home theater room uses a projector.
Outstanding Technological Achievement
Modern technology has reduced the costs of home theater technology, from the high-quality components of a surround sound system to projectors and screens. That makes constructing a theater room more affordable for more homeowners.
Technology has also gotten better. Many modern projectors can create a full and bright image on a projection screen for very little compared to models of just five to 10 years earlier.
Modern interior design components also simplify installing your new tech. Many modern elements of a home theater system, from the television or projector, to the individual speakers of the surround sound system, can connect through a private, in-home wireless network.
While these components still require power, wirelessly connecting them to each other eliminates the need to run a special conduit or pull speaker wire through walls or under the carpet. Just turn on the speakers and the network and follow the wireless connection instructions.
Double Feature
In the past, Utahns tended to create more multi-purpose home theaters. However, with the lower cost and fewer installation hurdles mentioned above, many Utah homeowners opt to create two basement theater spaces; one that's a movie room/game room and another that's more like a bar or a man cave. That way, the kids can still have an excellent place to play their video games, even if Dad is watching the game.
Five Design Ideas for Your Ultimate Home Movie Room
Follow these five tips to give yourself an edge when designing your home theater and building it into a feature piece of your finished basement.
Keep Use Cases in Mind
Every home theater is different. Some simply need to host family movie nights. Others must function as multimedia rooms and integrate other components, like gaming systems or computers. Others must change functions based on the day or even the time of day. It could be a living room by day and a basement theater room by night.
Keep the use(s) of the room in mind throughout the design. It should influence your design theme and all of its elements. The uses of your space will also dictate the technological components you'll need to ensure it can perform all the functions required.
Be sure to consider how the lighting and atmospheric conditions will change throughout the day or the year and how those changes may affect the people in the room you're designing. Incorporate any additional features needed to add comfort and convenience to the room such as additional heating units, fans, dimming switches, and more.
Pick a Theme and Embrace It
Utah basement home theaters come in a wide variety of styles for fans of any genre. You can design a home theater based on your favorite TV or movie franchise. Some people like to celebrate movies in general with their theme. Others like their home theater to reflect their favorite sports team. Sometimes people want their home theater to resemble a sports bar, and sometimes they want it to keep the feel of a living room.
No matter what theme you choose, stick to it and use only colors and materials that support your theme in your interior design. Your theme will tell you what colors to use, what types of furniture to get, and what wall coverings to use and influence every decision, from construction concerns to lighting choices.
For example, if you want to recreate the full theater experience at home, you may want to build or install tiered stadium seating.
Consider All The Angles
The point of a home theater room is to provide a place where friends and family can watch something together. So, make sure everyone can see it. Consider the sight lines of every seat in the room and any areas you expect people to stand. Don't block anyone's potential line of sight with furniture or other design elements.
If you plan to use a projector, ensure you get the right size for the room and mount it where it can project to the screen without distorting the picture. Don't block the projector's throw with furniture or other design elements. Otherwise, you'll get shadows on your projection screen.
Embrace Technology
Keep your home theater up-to-date for as long as possible by opting for the most modern technology possible. Not only will leaning into modern technology make installing and integrating your home theater component much simpler, but it will also save you from having to update your devices and set up in just a few years' time.
Connect your home theater components wirelessly. It makes each piece simpler to relocate and upgrade. You can also integrate your home theater with the rest of your smart home technology. That way, you can see your doorbell camera without leaving the theater. You'll know if it's the pizza guy at the door or just your neighbor's dog without missing a minute of the action on screen.
Keep It Cozy
Remember, you can always go out to a theater. The point of creating one at home is to offer a new experience, by personalizing your theater and bringing in the comforts of home.
You and your guest will likely spend a lot of time sitting while watching. Choose comfortable chairs and couches for your home theater.
Insulate your home theater room thoroughly as part of its construction. That will help you keep the temperature in the room regulated to an optimal level.
Use adjustable lighting for your home theater. That way, you can dial down the brightness level for any serious movie-watching experience.
Don't forget about concessions and restroom facilities. Design a bar or kitchen into your basement theater room, or make sure you have one close. Always ensure the people in your home theater have quick access to a bathroom.
Design your home theater with help from Aspire, the #1 Utah basement home theater contractor.
From new build-outs to additions and remodels, Aspire architects and contractors have experience creating fantastic home theater spaces for homeowners across Utah. Aspire knows the local landscape that the current challenges contractors face.
Don't get bogged down in design conundrums or supply chain delays. Let Aspire and our team of material suppliers negotiate the details. You just tell us about the experiences you want to have in your new basement home theater, and we'll handle the rest.